Founding Spirit
As a trading company, DAIICHI JITSUGYO CO., LTD. strives to facilitate the logistics of an economic society in order to contribute to social prosperity. Corporate activities are based on a proactive approach and spirit of unified cooperation. The company aims for stable growth based on sound management, while striving to improve the lifestyles and welfare of its employees.
Corporate Principles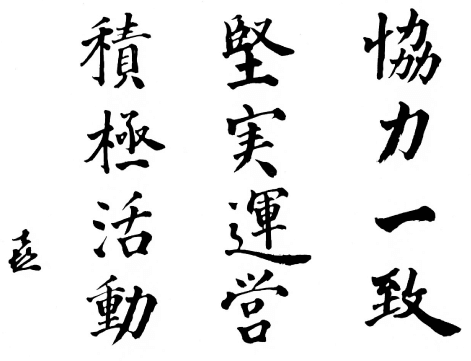 Unified Cooperation
Sound Management
Proactive Corporate Activity
Action Guidelines
Aiming to become a preferred international corporation,
we will strive to contribute to society with the appropriate pride and a sense of responsibility. Our code of conduct is as follows.

We contribute to the development of society by engaging in business activities with honesty and sincerity, basically with a caring heart toward people, work and the Company.
Based on the recognition of future trends from a global perspective, we strive for development and innovation by enhancing our originality/ingenuity and collecting more information.
With sincerity and trust as our motto, we work to help customers.
Setting high goals instead of indulging in tepidity, we continue to address challenges with courage and faith to be a leader in the industry in which we operate.
We strive to create a motivating and rewarding workplace by maintaining physical and mental soundness and politeness.
While trying to understand other people's feelings or situations and emphasizing teamwork, we fulfill our own responsibilities.
With constant cost awareness, we value things and time, thereby improving business performance.